Sycamore Lace Bug Identified on the North side of Tucson
Tucson, Arizona, September 15, 2015, a sycamore lace bug (Corythucha species) has been identified on the north side of Tucson infesting and discoloring leaves on planted sycamore trees.
Sycamore lace bugs cause damage to leaves on Arizona sycamore as well as the hybrid London plane tree. The insects are normally found at higher elevations where the native host occurs, however; the most notable damage is usually observed in urban areas.
Sycamore lace bugs are white in color, about 1/8 inch in size, and feed on the underside of leaves on host trees. As nymphs (the juvenile stage) the insects are black, spiny, and wingless.  Adult sycamore lace bugs tend to have an almost transparent appearance, which combined with venation on wings and ridges on their bodies, lends them their common name. Adults are mobile and their movement is aided by wind.
Lace bugs go through three life stages: egg, nymph, and adult. During the winter adults hide in bark crevices or branch junctures, and become active again in the spring when leaves begin to break from their buds.
Shortly after becoming active, the adults lay their elongated, black eggs on the underside of leaves. Sycamore lace bug eggs hatch within a matter of days of being laid and the newly- hatched nymphs feed on the underside of the leaves as they grow. Nymphs tend to cluster together on the underside of infested leaves and wherever they are feeding, their feces, known as frass, may be seen as well.  Frass appears as tiny dark drops. The sycamore lace bug life cycle is about 45 days in length, allowing for several generations throughout the year.
Early infestations are evident when white spotting begins to occur on leaves where the insects are feeding. Black spots, the frass of the insect, appear widely across the underside of the leaves as well. Heavy infestations can result in bronzing and drying of leaves. Eventually, those leaves will fall prematurely, leaving an unhealthy appearance to the infested trees. Established trees can sustain this damage for several seasons. Young or newly planted trees experience more adverse effects during infestations than established trees. The damage is more severe in drier conditions.
Though there are insecticides and other types of management actions that can be taken, most damage is aesthetic. Watering trees properly can help relieve stress on trees. Additionally, spraying  strong streams of water on the leaves of small trees can be effective in removing sycamore lace bugs in the nymph stage, before severe damage occurs. However, these infestations do not require any treatment and populations of the insect fluctuate from year to year. There are also natural fungi as well as predators and parasites of lace bugs that can help manage populations.
For further information about this insect, visit the following websites:
http://www.ipm.ucdavis.edu/PDF/PESTNOTES/pnlacebugs.pdf
http://www.cdfa.ca.gov/plant/ppd/PDF/corythucha_confraterna.pdf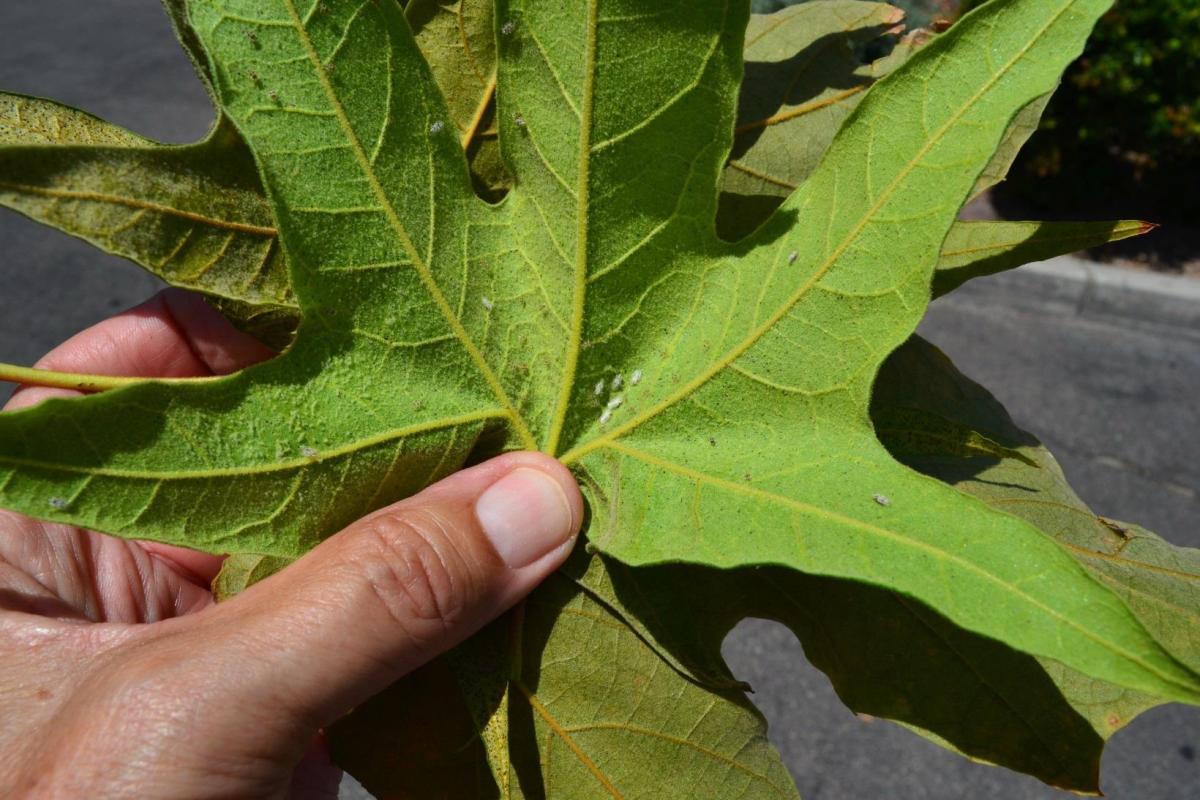 Effects of the sycamore lace bug in August 2015, on several street trees in northern Tucson, AZ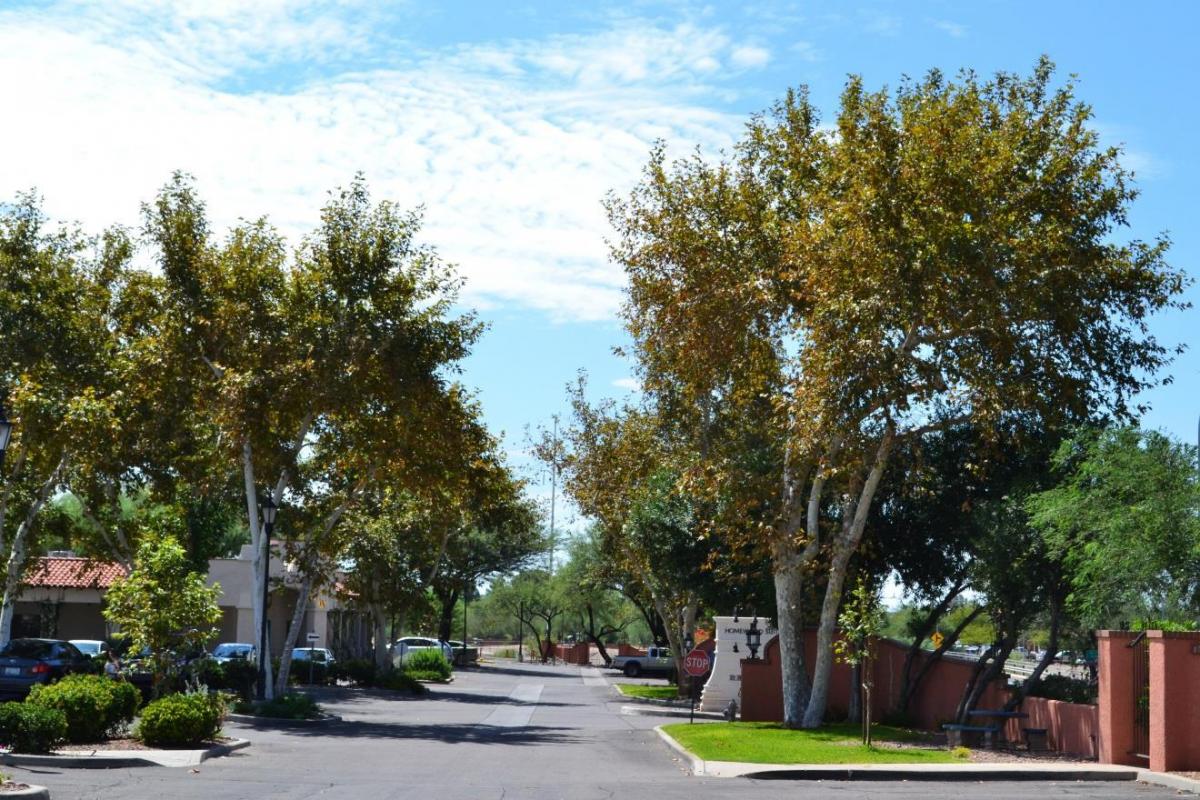 Adult lace bugs (white) and nymphs (darker, in upper right) as well as white stippling (left) and frass (tiny black spots across leaf surface)