Drones and Wildfire

Drones and Wildfires Do Not Mix 
All fires are no drone zones - flying a hobbyist drone over a fire puts everyone at risk and hinders firefighting suppression efforts. If you fly - we must ground all aircraft, including the large air tankers due to the dangerous conditions drones pose in unauthorized airspace. Always follow FAA rules when flying your aircraft. And remember, you could face fines if you are caught flying your drone near a wildfire. A cool photo or video is not worth the risk for everyone involved.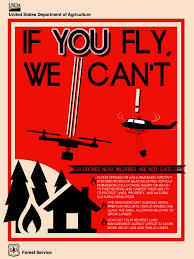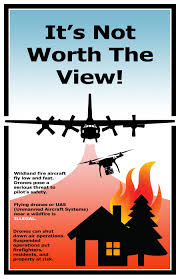 In 2017, aircraft was grounded in Arizona on multiple fires, including the Pinal Fire near Globe, the Boundary Fire near Payson, and the Goodwin Fire near Prescott due to unauthorized drones in the airspace. Unmanned Aircraft Systems (UAS) or drone incidents on wildfires continue to increase. In 2014, there were 16 incidents of drones impacting wildfires across the country. Two years later, that number more than doubled to 41 cases. 
No photo or video is worth the risk. Not only is it dangerous and potentially deadly, it's against the law to fly a drone near a wildfire. If caught - your drone could be confiscated by law enforcement and you could face hefty fines. 
For more information on drones and wildfires - go to the National Interagency Fire Center's Drones and Wildfires page.