2017 Shade Tree Planting Prioritization
The intent of the Shade Tree Planting Prioritization (STPP) analysis is to:
Rapidly and strategically assess Arizona's urban forest communities to inform Urban and Community Forestry planning

Identify Arizona's underserved cities and communities based on state-wide, best available, and relevant socio-economic and environmental data

Account for a city's commitment to their urban forest (sustainability) as it applies to UCF partnerships and projects

Keep spatial and quantitative analysis simple and transparent

Generate summaries and geospatial products for internal and public dissemination
The analysis and products will inform future DFFM priorities for program delivery and may be used directly by communities for their management needs. 
How Can The Prioritization Maps Help Me?
Resident

Compare neighborhoods and inform community actio

n

HOA

Justify shade tree planting and maintenance costs

Municipality

Identify underserved neighborhoods and promote shade tree planting and maintenance

Non-profit

Target and maximize volunteer tree planting and care efforts

Business 
Identify potential markets for tree nurseries ("hot" spots)
Identify areas with possibly larger tree maintenance needs ("cool" spots)
Regional Planning Organizations 
(RTA, MAG, PAG, etc.) 
Support long-term planning initiatives
Aide obtaining funding for specific projects
Products And Services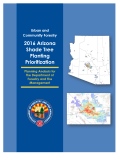 2017 Shade Tree Planting Prioritization Reportupdated 09/24/2018
Summary of the intent, methodology, and results of the 2017 Shade Tree Planting Prioritization analysis. 


 2017 Shade Tree Planting Prioritization Atlas updated 09/24/2018
11" by 17" Atlas of shade tree planting prioritization maps for Arizona's 95 largest cities and towns.

2017 Shade Tree Planting Prioritization Advanced Web Map updated 10/21/2020 
Advanced interactive online map of the analysis results.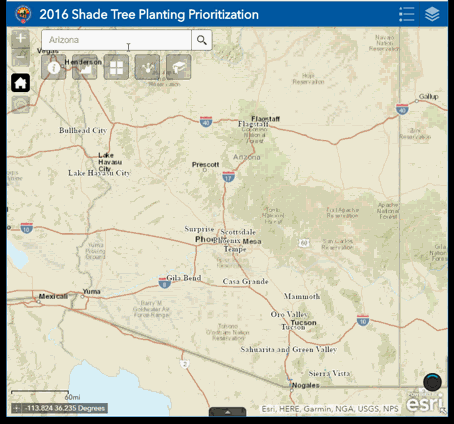 Turn on and off STPP layers

Switch the basemap between road map, satellite image, topographic map, etc.

Access to STPP sub-index layers:

​Population Density Index

Lack of Canopy Cover Index

Low-Income Index

Traffic Proximity Index

Sustainability Index

Air Quality Index

Heat and Developed Imperviousness Index

​Click on Census Block Group polygons to access attributes.
Note: Only STPP Indexes and attributes denoted with a * are Census Block Group level estimates. All other are city-wide estimates.

 2017 Shade Tree Planting Prioritization Simple Web Map updated 03/11/2019
Simple interactive online map of the analysis results.
Population 1 to 1,000
Zoom to:  Duncan, Hayden, Jerome, Patagonia, Tusayan, Winkelman,
Population 1,001 to 5,000
Zoom to:  Benson, Carefree, Chinle, Clarkdale, Clifton, Colorado City, Dewey Humboldt, Eagar, Fredonia, Gila Bend, Huachuca City, Kearny, Mammoth, Miami, Parker, Pima, Pinetop-Lakeside, Quartzsite, San Carlos, Springerville, St. Johns, Star Valley, Superior, Taylor, Tombstone, Wellton, Willcox, Williams,
Population 5,001 to 10,000
Zoom to:  Bisbee, Cave Creek, Globe, Guadalupe, Holbrook, Kayenta, Litchfield Park, Page, Safford, Snowflake, South Tucson, Thatcher, Tolleson, Wickenburg, Winslow, Youngtown,
Population 10,001 to 50,000
Zoom to:  Apache Junction, Bullhead City, Camp Verde, Chino Valley, Coolidge, Cottonwood, Douglas, El Mirage, Eloy, Florence, Fountain Hills, Green Valley, Kingman, Marana, Maricopa, Nogales, Oro Valley, Paradise Valley, Payson, Prescott, Prescott Valley, Queen Creek, Sahuarita, San Luis, Sedona, Show Low, Sierra Vista, Somerton,
Population 50,001 to 100,000
Zoom to:  Avondale, Buckeye, Casa Grande, Flagstaff, Goodyear, Lake Havasu City, Yuma,
Population 100,001 and larger
Zoom to: Chandler, Gilbert, Glendale, Mesa, Peoria, Phoenix, Scottsdale, Surprise, Tempe, Tucson,

 2017 Shade Tree Planting Prioritization GIS Data  (hosted by AZGeo Hub) Updated 3/11/2019
GIS data of analysis results (hosted feature service). 
---

Major funding provided by the USDA Forest Service State and Private Forestry Program. 
In accordance with Federal law and U.S. Department of Agriculture policy, this institution is prohibited from discriminating on the basis of race, color, national origin, sex, age, or disability. (Not all prohibited bases apply to all programs.)
Use Disclaimer
Use is granted to public agencies, educational institutions, non-profit organizations and private individuals for non-commercial purposes. For commercial use of the Department of Forestry and Fire Management maps and data see Arizona Revised Statutes 39-121.03. The Department makes no warranties, implied or expressed, with respect to the accuracy of and the use of this data for any specific purpose. Users are required to make their own assessment of the data for any specific use.
Disclaimer Of Non-Endorsement
References herein to any specific commercial products, process, or service by trade name, trademark, manufacturer, or otherwise, does not necessarily constitute or imply its endorsement, recommendation, or favoring by the Department or USDA Forest Service. The views and opinions of individuals expressed herein do not necessarily state or reflect those of the Department or USDA Forest Service, and shall not be used for advertising or product-endorsement purposes.
Geospatial Disclaimer
Property line representations and/or any other type of boundary, linear or point location representations contained within this data or displayed within this product are approximate, and cannot be used for authoritative location purposes. Users should independently research, investigate and verify all information before relying on it or using it in the preparation of legal documents. Legally-defensible property boundaries can only be established by state-registered professional land surveyors. A list of Arizona Registered Land Surveyors is available at btr.az.gov.